Braehead training day December 27th
After the team had digested our Christmas dinners and recovered from our lemonade induced headaches we travelled to Braehead for a British Curling training weekend ahead of the Scottish Men's qualifiers. The day consisted of a training session and two games of curling. Hannah Fleming and team were dispatched as were Kyle Smith's team in an adapted skins game. To round off the day we had are knuckles wrapped by the coaches due to our antics at Kinross, we are very sorry to anybody we have offended and let down.
Hew Chalmers December 28th-29th
The team was joined in Stranraer for the annual social event by many other curling friends. We managed to enter 5 variations of mixed teams that were split into 2 sections of 4 (this is a drastic decline in team numbers for this great event, please help Gail Munro and support the event in the coming years). In a stroke of drunken luck/team fixing Billy and Jay were drawn in a team in the same section as Grant and Hammy. To cut a long story short Jay and Billy progressed and the McMillan due did not!! As usual Chowden won the event along with Jay and Billy's team winning the fancy dress, sportsmanship and quiz prizes - thanks Andy and Abi.
Perth Masters January 2nd-5th
We moved into 'Championship Month' in January and started at the Curling Champions tour flagship event - the
Perth Mercure Masters
. This was our first tournament of our 5 weekends in a row of curling, our travels included; Perth, Glasgow, Dumfries, Hamburg and Aberdeen. But back to Perth for now. We progressed through the A road at the expense of Freiburger, Eriksson and Kyle Smith before beating Dave Edwards in the A final. The first three teams we defeated all competed at The World Universities finishing 5th,1st and 2nd respectively. It would of been nice to play that competition! Moving on into Sunday we were drawn to face Kyle Smith and team again after they defeated American Olympic hopefuls Team Schuster. On this occasion Kyle got his revenge largely due to their top end not missing much. Perhaps my last snidey remark is now null and void. Losing in the quarters wasn't the finish that we wanted but we can take a lot of positives away from coming through the A road at such a tough event. Another plus was the quality of the ice conditions, here's hoping Paul and his team can maintain the surface for Scottish Finals week.
Braehead - Men's Qualifying Round 1 January 11th-12th

We were drawn in section A along with 7 other teams which 4 qualified from. We opened up the event against our good friends team Fraser. The game was nip and tuck until we managed to steal 2 in the 5th. From that point we kept things clear and ran them out of stones in the 10th. Our second game was against Duncan Gracie after a slow start we were able to assert our dominance and run away with the win in 8 ends. Our final game of the weekend saw us line up against our turncoat coach Alan playing 2nd for David Mundell. The game was closely fought with many stones in play but 2 big scores of 3 gave us breathing space and we won 8-4 in 9 ends. 3-0 left us tied top of the section with qualification looking good.
Dumfries - Men's Qualifying Round 2 January 17th-19th
The Friday of Dumfries was looking like it could've been a squeaky bum moment but luckily Billy and Grant got through their exams quickly and race down the road in plenty of time for first practise at 5pm. We were playing Alan Manuel and perhaps the rushing around and exam stress had an affect on the team early on as we were quickly chasing the game. At half time we received a pep talk from Robin that spurred us on (these were a constant feature of our weekend). We picked up a 4 in the 6th and a 3 in the 8th which killed the game, 9-6 victory. On Saturday we played Moray Combe and again started slowly losing a 3 in the 1st we battled to 3-6 after 5 before the inspirational Robin stepped in again. Somehow we were off the ice after 9 ends winning 12-7. Robin was later approached by David Moyes to give a talk to his faltering team, as an avid Liverpool fan Robin respectfully declined. Now with a 5-0 record we were guaranteed our spot at finals. In the evening game our performance showed this as we put together a very slack performance and were comfortably beaten by Warwick Smith. We were bad, they were good - that is as much detail as i wish to divulge. In our last game we had to play as our scoreline against Ross McCleary affected 3 teams. As it turned out we beat Ross on a very poor sheet of ice. This result meant Warwick and Moray's game was meaningless as both had no qualified for finals at Ross's expense. Blair Fraser was the other qualifier from our group. Find all of the qualifying results and a list of successful teams here -
Qualifying
. Finals here we come!
Hamburg German Masters January 24th-26th
Our journey to Hamburg began with a horrible 4:45am alarm call and a ridiculously late and boring taxi driver - i wish to see neither of them again. We caught our flight to Heathrow easy enough and treeated ourselves to a traditional breakfast for 8am (details below)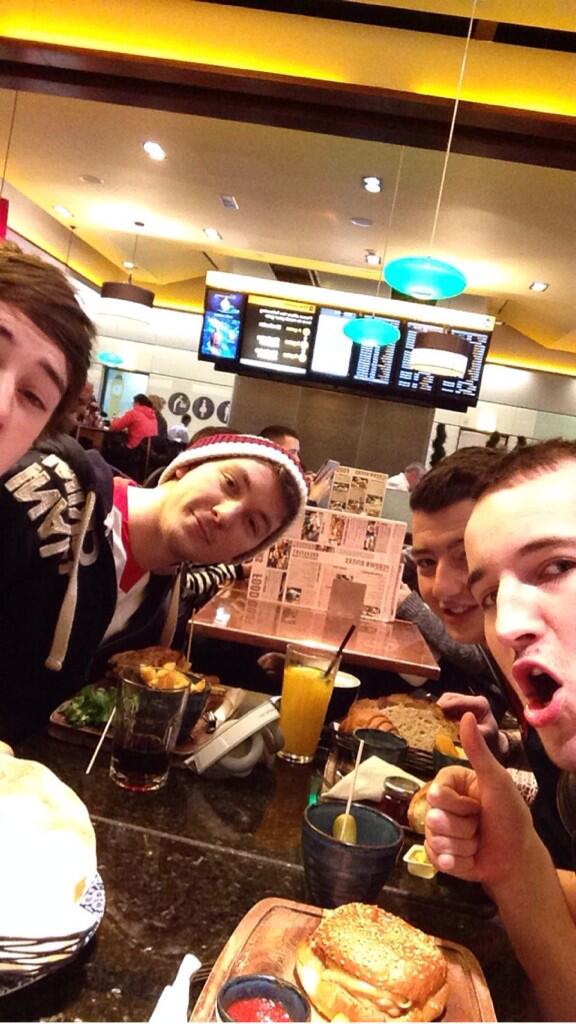 Hammy- continental breakfast, Billy - chicken burger, Jay - club sandwich, Grant - chicken tikka
We arrived safely in an extremely cold Hamburg and went straight for a practise. Initially ice was slowish, swingy and with the stones looking good. Friday's day saw us play Pfister the Eriksson, we played solid in both and won them fairly comfortably. On Saturday we played Tselousov, they came out firing and controlled the game for the most part. Somehow we clung on and were 1 up down the last without, he missed the hit and stick for the extra and we won! On Saturday night we faced up against Svensgaard of Denmark we played well but were caught out by; 'a shite stone' (Jay's words), a shelf on the ice that hugely affected Grant's number 8 on 2 occasions costing us a total of 5 shots and an extremely flukey draw in-wick to freeze against 4 from Torkil. Somehow we lost the game and finished the group 2nd to Svensgaard. They were rewarded with a quarter final against Baumann of Germany and we drew the reigning Swiss and European champions team Michel - great. Against Sven we started extremely well and bossed the game for the majority but they stuck with us displaying why they have achieved what they have. In the later stages they got the better of us and ran us out of stones in the 8th. Losing in the quarters means it is very unlikely we will get to take part in the tour finals in St Gallen. Here are the final standings on tour...
Fingers crossed we receive an invite for our efforts.
Petrofac Aberdeen City Open January 31st-February2nd
After not initially due to play in Aberdeen we decided to play it in order to finish 3rd in the
Scottish curling tour
. Grant would be missing for our first two games of the schenkel event so landlord for the weekend and all round good guy Andy Mac was drafted in to help us. Andy is renowned for his perfect technique and his second to none tactical prowess. His job was to throw lead and take the head for Jay's stones, both specialist skills.
Andy's reaction to his call up
In our first game we won a tightly fought encounter against Korolenko. A close win meant we avoided the heavyweights in the section, Andy's knowledge of a schenkel format was rubbing off. In the evening game we saw off Angus Robertson. It was again a struggle but our 5th man's calming influenced meant the team was able to come through again. On Saturday morning Andy took up his coaching role and Grant once again took the reigns of the team. Perhaps Andy should've stayed on the ice because the Korean ladies Olympic gave us a good spanking. The scoreline read 5-3, it should of been much more. These results left us 2-1 overall meaning we would qualify providing we won our last game. We played against some familiar guys in team Hutcheon and managed to put together a good performance to qualify in 3rd place in the 10 team schenkel. However due to an injury scare Andy was once again required to fill in, this time for Billy who left the ice early to protect his crumbling knee for Sunday's playoffs and next week's Scottish finals. Saturday evening the only place to be was back at Curl Aberdeen for the now infamous Petrofac City Open race night hosted by the legendary Albert Middler. Jay lost in a 5 man game of shit head meaning he would 'ride' the teams horse throughout the night. For the dinner we were sat with the self proclaimed 'team punter' of ladies curling team Barr. Their banter was as usual sub standard but we managed to get through the night largely due to free wine and a large team kitty. Somehow Jay got through his heat but failed miserably in the final losing to Scott Macleod, who knows how Scott is so good at the racing, perhaps he has too much time on his hands. Moving into Sunday we played Michael Opel of England in the quarters in truth we played well but couldn't get our noses in front, our opposing skip also played very well. We needed a 2 down the last for an extra, we set up a very good end and when coupled with a tactical error from our opponents we secured a 3 for the win. Into the semis we went to play against the punters. They had just beat Dave Edwards and in doing so handed the Scottish tour to Ross Mcleary. The effects of their night out was apparent as we found ourselves 4-0 after 2 ends we hit for home successfully winning 5-3. We faced up against Ross McCleary he had already won the tour we were confirmed 3rd so it was just the title up for grabs, they may also have wanted revenge for the Scottish qualifiers. The game was a good one with alot of shots being made with a lot of stones in play through out. However we managed to stay in control and won with a 6-4 scoreline. Champions for the 2nd time this season!!
The victorious 5 man team
Check out the final standings for this season's Scottish Goldline Tour...
Leaderboard 13/14
1st Prize - The Galbraith Trophy and £2,000.
2nd Prize - £1,000.
3rd Prize - £500.
57pts Ross McCleary52pts David Edwards49pts Grant Hardie
35pts Martin Lill
30pts Kyle Smith
25pts Frazer Hare
24pts Kerry Barr
18pts Ewan MacDonald
18pts Cameron Bryce
18pts Blair Fraser